News
November 2016 | Officially declared experts on customs and exports
Well done! Timo Baumann and Markus König, HBH's two officially declared experts on customs and exports, have gained professional qualification approved by Germany's customs office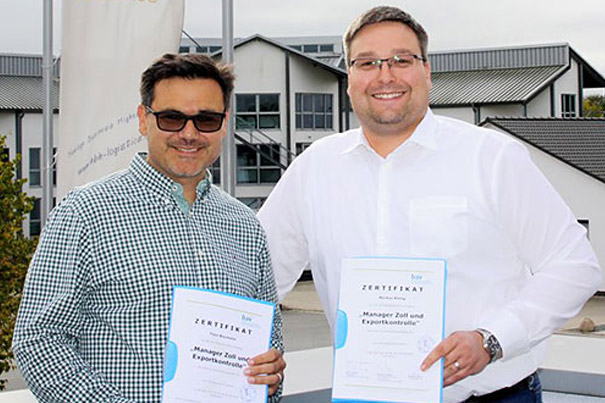 Organising customs clearance is an important issue for every logistics company – and not just when the inspection of goods by customs authorities or the Federal Office for Economic Affairs and Export Control (BAFA) resulted in severe payment obligations. The export of goods, especially during times of stricter security controls, is subject to numerous legal regulations, ranging from the classification of goods and the statement of their value to checking the goods' declared properties and making sure that the consignee is not appearing on any boycott lists.
So it is all the better if there is a competent desk for customs and export issues in the house. HBH now has two experts for this work: Timo Baumann and Markus König the first amongst nationalwide who have passed the exam for becoming a "Customs and Export Control Manager". This qualifies each as an "expert within the framework of the new legal provisions (Article 27 of the Commission Implementing Regulation (EU) 2015/2447) on meeting the obligation that training and continuing education is provided through an authorised economic operator (AEO)". Timo and Markus "returned to the classroom" to gain this professional qualification parallel to full-time work. Training widespread familiarisation with the Union Customs Code and completion of the programme on legally watertight importing and exporting.
Good job! Congratulations!
The team from
HBH Logistics GmbH & Co. KG

Newsletter November 2016
» back